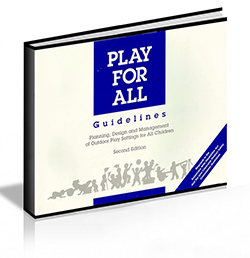 play for all
Play for All was a four year research project on integrating children with and without disabilities into public play settings. Field research was conducted at the PLAE programs designed to integrate children using the arts and physical environment. These programs served thousands of children with and with out disabilities. This research was drafted into a design manual and then reviewed, critiqued and refined at a three day design charrette at Stanford University attended by 136 professionals in the fields of child development, recreation therapy, education, law, landscape architecture and park management. The results, published in "Play For All Guidelines," address the full-range of play area planning, design and management issues: safety and risk management, accessibility and integration, maintenance, and (most importantly) child development.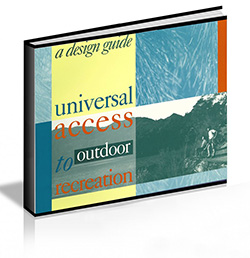 universal design for outdoor recreation
The USDA Forest Service was practicing universal design in most of the different forests they managed. These environments ranged from urban outdoor experiences to very natural wild lands. The Forest Service worked closely with PLAE to document and illustrate the design ideas they had put into practice. This research became an award-winning book, Universal Access to Outdoor Recreation: A Design Guide which establishes a framework for determining the appropriate level of access in a range of outdoor sites from developed to undeveloped. The book presents detailed design guidelines for the systems and elements necessary for ensuring accessibility to recreational trails, campsites, picnic areas, group meeting areas, and more. Examples demonstrate how the guidelines can be applied in typical outdoor settings to achieve a range of recreational opportunities for individuals of varying abilities.This publication became the official design guide for the USDA Forest Service and their training manual for their design staff.